The Importance of HVAC Preventive Maintenance for Air Conditioning & Heating Equipment

Did you know that 9 out of 10 HVAC system failures are caused by dirt, rust, and lack of proper airflow? Just as a car needs oil changes and tune-up every now and then to run efficiently, your HVAC system also needs periodic maintenance inspections to ensure that it is running most efficiently in cooling and heating your home or your business. There are many other benefits in maintaining your HVAC systems.

Keeping your equipment in running conditions can save you approximately 20% in utility costs. According to a study done by ASHRAE (American Society of Heating, Refrigerating and Air conditioning Engineers) which found that it costs approximately $600.00 more a cooling season if a large central air unit has a dirty coil. It also increases by another $480.00 if it has a clogged filter too. It is a big price to be paying when all can be taken care of through proper maintenance of the unit.

There is a 70/30 rule when you think of costs of a HVAC system. 70% of the cost should be preventive in nature and 30% should be corrective. We all know that eventually anything mechanical will need to be repaired. Calverley's Preventive Maintenance Program provides periodic inspections of your HVAC system. During these inspections, our certified technicians will perform items off a checklist to optimize the performance of your system. Items on the list include: filter change, thorough system cleaning, and check for leaks and signs of wear and tear.
In the long run, Calverley's Preventative maintenance program will save you time and money. Preventative maintenance on your HVAC system is a means to an end. You want to ensure that your unit is operating at peak efficiency when you need it most. Not only will you save money on the cost of maintaining your system, you also save on energy bills. Along with that when you need corrective service, Calverley's Preventative Maintenance program gives you priority in case of emergency over non-contract customers.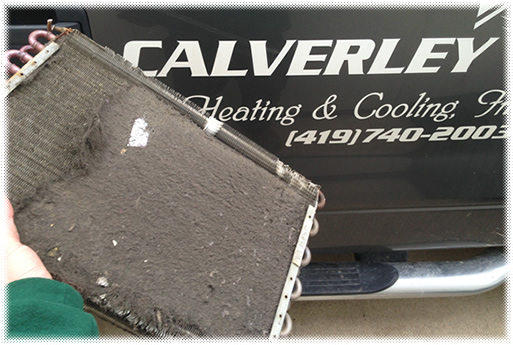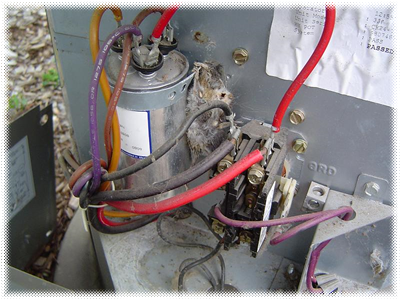 The Importance of Regular Air Filter Maintenance

The importance of regularly changing your HVAC air filters cannot be overstated. It's the single most important thing a homeowner can do in between regularly scheduled service calls; especially if you want those service calls to be as inexpensive as possible.

Think about air filter maintenance in the same way you think about changing the oil in your car. You know that you have to get it serviced regularly, otherwise you'll ruin the motor and wind up buying a new one; exactly like an HVAC system.

Just like with an oil change on your car, it's not enough to just pop into a quick-lube every 6 months or so. If you want to avoid costly heating and air repair, you will want to first ascertain how often your HVAC filter needs to be changed.

If you have pets, or pesky allergies, you will need to replace the filter more often. If you live in a quiet area, you might get away with replacing it less, than if you lived near busy, dirty streets.

The biggest mistake people make is only replacing the filter when it is visibly dirty. Just like car maintenance, oil only lubricates when it is clean. A filter can only work when air can get through it. If your filter is grey with dirt and debris, if it is still filtering at all, it is choking your HVAC system and forcing the fans to work harder than they should, a circumstance that will eventually lead to an expensive repair bill. (Ex. Failed compressors, heat exchangers, inducers, blower motors, condenser fan motors, and internal functioning parts)

Check your filters every thirty days. If they're still nice and clean, you can try 60 days, perhaps even 90 if you're very lucky. But when they begin to get dingy, get rid of them. Purchasing a HVAC filter every month is a whole lot cheaper than having to buy a fan motor. If you don't like changing filters every month talk to you Calverley HVAC representative about upgrading to a 6 month or 1 year filter.