GEOTHERMAL


At Calverley Heating & Cooling, Inc. we strive to not only offer you the best in customer service, quality workmanship, service and support, but also amazing and dependable HVAC products. That is why we have chosen American Standard as our leading product line for forced air applications. In 2001 American Standard was rated Number One in Reliable Performance for the best trouble free heating, ventilation and air conditioning brand among 14 leading manufacturers by readers of a national product-testing publication. In 2002 approximately 500 furnace installers and more than 35,000 consumers named American Standard Heating & Air Conditioning one of the only two brands voted more reliable than average by readers of a national product-testing magazine. In 2005 readers of a national product-testing magazine rated American Standard gas furnaces as the most reliable brand among 12 leading manufacturers. In 2011 American Standard was ranked highest in overall dealer satisfaction for the fifth time, after winning in 2006, 2007, 2008, and 2010*. Most recently American Standard was ranked The Most Reliable Brand by a national product-testing and research magazine for air conditioners and heat pumps! It goes without saying, Calverley Heating & Cooling Inc. has done their homework and guarantees we truly will deliver you with amazing and dependable HVAC products.

*Based on survey results complied by the independent research firm Syndics Research
HOW GEOTHERMAL SYSTEMS WORK: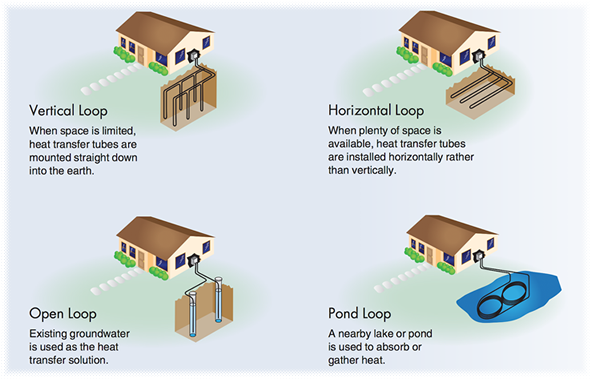 Harnessing Geothermal Energy
Geothermal heat pumps take advantage of the solar energy stored just below the surface of the ground. 40 - 60% of the Sun's energy is directly absorbed into the ground, making the Earth a giant solar panel. Geothermal heat pumps transfer energy between the ground and your home through a series of buried, high-density, poly-ethylene pipes. The pipes are filled with a water solution and sealed using heat-fusion to weld pipe to pipe. These pipes are called an earth loop.

Geothermal Heating

In the heating mode, heat is absorbed from the ground and pumped into your home. The water circulating in the earth loop is colder than the surrounding ground.
This causes the water to absorb energy, in the form of heat, from the earth. The water carries this energy to the heat exchanger in the pump. In the heat exchanger, refrigerant absorbs the heat energy from the water. The water now leaves the heat exchanger at a colder temperature, and circulates through the earth loop to pick up more energy.

The refrigerant gas, which contains energy gained from the earth loop, travels from the heat exchanger to the compressor. In the compressor, the refrigerant temperature rises to 160° The superheated refrigerant travels to the air heat exchanger. Here, the heat pump's blower circulates air across the air coil, increasing the temperature of the air, which is blown through ductwork to heat the home. After refrigerant releases its heat energy to the air, it then flows to the earth loop heat exchanger to start the cycle again.

Geothermal Cooling

In the cooling mode, heat is pumped out of your home and released into the ground. The water circulating in the earth loop is warmer than the surrounding ground. This causes the water to release energy, in the form of heat, into the earth. In the heat exchanger, hot refrigerant gas from the compressor releases its heat into the water. This causes the water to increase in temperature, and release the heat to the ground.

The refrigerant, which has released its heat energy and became a cold liquid; now travels to the heat exchanger. Here the heat pump's blower circulates warm, humid air across the cold air coil. The air is then blown through ductwork to cool the home. The refrigerant in the air coil picks up the heat energy from the air, and travels to the compressor. When the refrigerant leaves the compressor, it then flows to the earth loop heat exchanger to start the cycle again. The system has no carbon dioxide emissions or any other negative effects on the environment. If you are interested in this type of air conditioner, Calverley Heating & Cooling, Inc. recommends you review this product literature by American Standard:

American Standard Geothermal System Brochure - Click for Info